Summer is in full swing and many car owners are pulling their roadsters out of the garage to have fun in the sun. So what exactly is a roadster, and how do you find one for cheap? We're here to help you out. Webster's Dictionary defines a roadster as "an automobile with an open body that seats two and has a folding, retractable, or removable top and often a luggage compartment or rumble seat in the rear." Roadsters are typically sporty in nature as well, although this is not a defining characteristic.
So, how do I find one on a budget? Well, that's what we're here for. We've scrapped together a list of roadsters from practical Hondas to luxurious Cadillacs that won't break the bank!
10

Mercury Capri XR2 – $4,250
The Capri was originally built and sold in Australia, but Ford brought it over in 1991 and sold it under the Mercury marque. The Capri was equipped with a 1.6L inline four that was only good for 100 horsepower, but don't let that push you away. The Capri was offered with sporty suspension and a five speed manual that allows for fun in any gear! Fuel economy is another big advantage of this tiny beast, getting 25 mpg city and 31 mpg highway!
The car shown was sold for only $4,250 on Bring A Trailer! The car only showed 32,000 miles and was loaded out, with the sporty five-speed and upgraded gauges! About 30,000 cars were made, so it shouldn't be too hard to get your hands on a good example!
9

Cadillac Allante – $9,100
Want something a bit more luxurious? Look no further than the Cadillac Allante. Cadillac wanted to bring a taste of performance and sophistication to their lineup, so they partnered up with famed Italian design house Pininfarina and released the Allante. GM took care of all the mechanical work once Pininfarina finished the bodies. From 1987-1992 Cadillac offered the "High Technology Engine," a V8 only good for 170-200 horsepower depending on year. If you want a true powerhouse you'll opt for the 1993 Allante, powered by a 300 horsepower Northstar V8. Unfortunately the engine came too late, and the model was canceled for the 1994 model year.
The car shown sold for an affordable $9,100 on Bring A Trailer! The car was an 89 model equipped with the 4.5L V8, and showing only 41,000 miles. Cars were sold with both a soft top and an optional hard top that can be removed if the driver wishes. The Allante was no stranger to Hollywood, being used in the hit 80s show Dallas. Maybe it's time to bring some 80s luxury to your own garage!
Related: Auction Dilemma: Cadillac Allanté Vs Mercedes Benz 500SL
8

Alfa Romeo Spider – $9,200
Alfa Romeo released the Spider in 1966, and it sold for four generations, ending in 1993! The Spider was Alfa's small sports coupe to compete with cars like the MGB, Triumph Spitfire, and Honda S500. Spiders were offered with a slew of performance goodies like limited slip, fuel injection, and only came with a 5-speed manual until 1990. About 110,000 cars were produced from 1990-1993, so there is a variety of options, engines, and price points to choose from.
This example was sold for $9,200 on Bring A Trailer, showing 66,000 original miles. As most Italian cars do, these tend to fail and can break down as they age, so it's wise to be on top of the maintenance and find a trusted exotic car mechanic near you. That said, there's no better way to get an Italian roadster on a budget!
7

Honda del Sol Si – $9,500
Honda replaced the famed CRX with the Del Sol in 1993. The del Sol was based on the Civic and used the same mechanical underpinnings. The del Sol was offered in either a practical S trim, featuring a penny-pincher 1.5 Inline 4. The one we want to show you is the Si though, which made use of a 1.6L VTEC Inline 4 and a 5-speed manual.
The example shown here sold for $9,500 on Bring A Trailer, showing 78,000 miles. If you opt for the more practical S trim you could expect to pay around $3,000 for a good example, so the choice is yours. The modding potential is limitless with these little Hondas, but whatever you do, take the Targa-top down and let the wind blow in your hair!
Related: Grab Yourself A Bargain JDM Car With This 1997 Honda Del Sol VTEC
6

Audi TT – $8,000
The first of the four German roadsters on this list was developed by Audi and made use of a turbo inline-4 or the famed VR6. Audi's little roadster actually based on the Jetta platform, but made use of upgraded suspension, AWD, and a 6 speed manual. So where does the name come from? TT was taken from the Tourist Trophy, the award given to those who win the Isle of Man Challenge. We put the TT last out of the four German roadsters due to reliability issues, and use of a front-wheel drive drivetrain when the competitors were using rear-wheel drive.
Nonetheless, the Audi TT is a great roadster and a cheap way to get into German performance cars. The example shown in the pictures sold for only $8,000! Audi equipped models with the Le Mans trim to celebrate their wins in Le Mans, winning eight races in the 2000s.
5

BMW Z3 – $7,400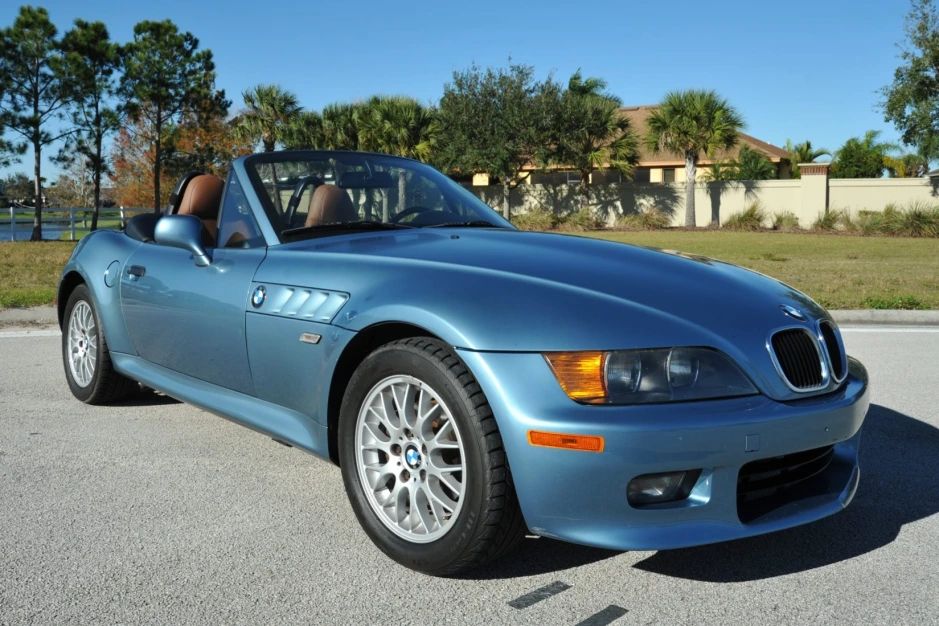 This is the car that kicked off the roadster wars amongst the German auto manufactures. BMW used M3 mechanical underpinnings such as the 2.5L straight-six, ZF 6-speed, and electronics. Where the Z3 differed was using stiffer suspension and a much lighter and smaller body. The final result only weighed 2,500 lbs! Z3's have also found massive success in SCCA T3 class, often beating cars like the S2000 and the Miata.
Z3 shown in the pictures was sold for $7,400! It's worth noting the car had 112,000 miles, but that's still a bargain for a European roadster with quite a bit of life left in it. The Z3 was no stranger to the big screen either, but not in Hollywood. A 1995 Z3 graced the screen of Goldeneye in 1994, launching the car into super stardom.
Related: BMW: Costs, Facts, And Figures
4

Mercedes-Benz SLK – $8,800
Mercedes launched the SLK in 1996 as an answer to BMW's Z3 and Porsche's Boxster. The SLK was offered with a range of engines, from the 2.0L inline-four, to a 3.2L supercharged V6, good for a pavement-pounding 349 hp. Mercedes based the SLK on it's C-Class cars, using the same engines and transmissions. The SLK also had an identical wheelbase to the SL300, but was lighter and the body itself was considerably smaller.
The example you see in the pictures sold for $8,800 with only 76,000 miles on the odometer. A notable feature of these cars was the automatic convertible roof that Mercedes actually put a patent on. The roof takes 25 seconds to open or close and uses real glass. Most sports cars at the time still used a simple mechanical mechanism that took only seconds to open or close.
3

Porsche Boxster 986 – $10,000
Porsche was in trouble financially in the 1990s, so in an effort to save the brand, they launched the Boxster 996, an affordable alternative to the flagship 911. The car sold well and kept Porsche afloat, and for that it alone it deserves a place on this list, but this car's prowess doesn't stop here though. The Boxster made use of a 250 horsepower flat-6, and when equipped with a manual transmission could storm to 60 mph in only 5.7 seconds!
The example shown here sold for $10,000 on Bring A Trailer, making it the most expensive car on this list. We'd be hard-pressed to find a better Porsche, or even sports car for the money though. This roadster takes the crown above all the rest of the Germans, but is beat by an English legend and a Japanese icon…can you guess what they are?
Related: Magnus Walker Tells Us Why The 986 Boxster Is The "Best First Porsche"
2

MG Midget
When one thinks of a roadster a British sports car often comes to mind. Something of style, elegance, and sophistication. Unfortunately most of us don't have a few million lying around for an Aston Martin or Jaguar, but thankfully MG is here to solve our woes. The Midget lasted for a remarkable 19 market years, an impressive feat for any car. The cars dimensions only came in at 137 inches long and 55 inches wide, with the final curb weight a remarkable 1,600 lbs. The sky is the limit for what you can do to an MG Midget, with some crazed fans even cramming V8s and turbos in the tiny engine bay.
The example shown in the pictures only sold for $5,375, in perfect running order. The car came equipped with a 120-mph speedometer (though we doubt you'd get past 90), a twin carburetor set-up, and enough chrome to make any low-rider jealous. Go out and get one of these British icons, they're all over the place and with a 19-year-long run, there has to be one that fits what you need. So, what could be better than an affordable British roadster?
1

Mazda Miata
You knew this would be here, we knew this would be here, and Mazda knows it would be here…so don't act suprised. The Mazda Miata needs little introduction, but we'll do it anyway. Mazda launched the Miata in 1989 to bring an affordable roadster to the market. The Miata is a drivers pleasure, with rear-wheel drive, a 50/50 weight distribution, and plenty of trim-levels and special editions to fit whatever your needs are. Again, the sky is the limit. LS swaps, turbo-kits, race modifications, and its own racing class make it the perfect first project car.
This clean example only sold for $7,400, but there are plenty of model years, trim levels, and price points to choose from. These cars are perfect for any application. Want a weekend warrior to take to track days? Maybe a stance build? Perhaps all you want is a fun but practical daily? So go ahead and get Craigslist open, you have no excuse.
https://www.hotcars.com/cool-cheap-used-roadsters/